Learn
Instagram Shopping Explained
Product Tagging, Checkout, and more!
When it comes to online marketing and selling, Instagram is a serious player. Apart from having more than a billion monthly users, there are more than 800 million shoppers, 241 million sellers, and 25 million businesses on Instagram. Make no mistake, it is destined to become an e-commerce hub!
In this article, we will explain what are the features of Instagram Shopping and how they work.
Some of these features are still in the beta phase, or only available in selective countries.
---
Tagged Products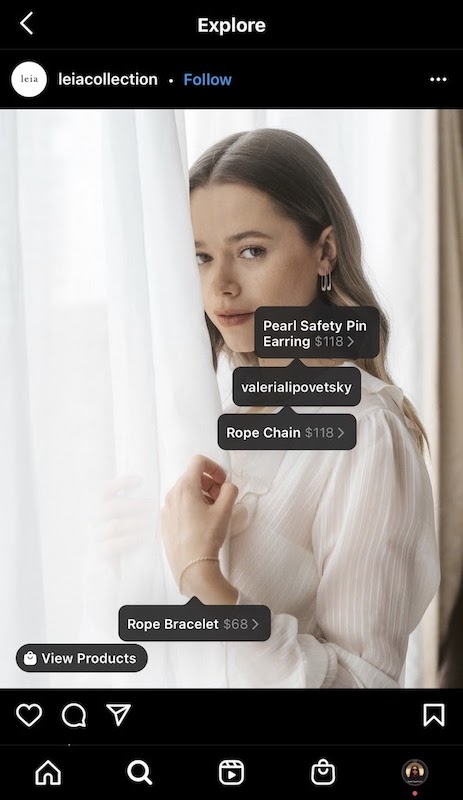 Many businesses are already using this feature, you can now have tagged products in your posts allowing Instagram users to buy from the post. In a post where a product or products are tagged, a shopping bag icon appears. Users can tap on the post to view the tagged products and then click a tag to view:
Product photo
Product name
Product variants
Price
Checkout button (Currently, only for US market) or a Shop Now button that redirects to a site.
How to Tagged Products on Instagram
---
Checkout
Checkout on Instagram is currently in a beta phase for businesses and is available to people in the US.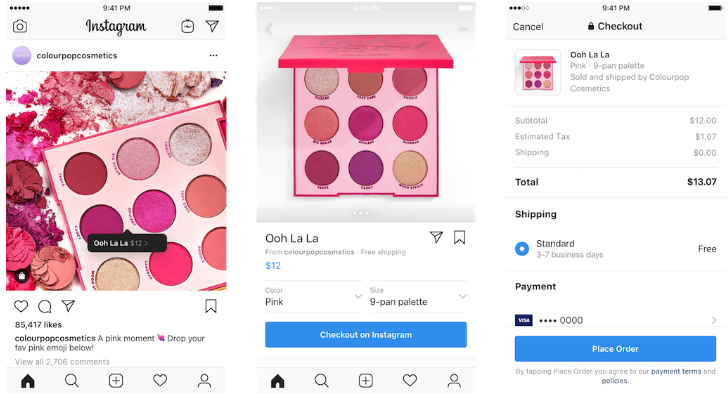 Image Source: Instagram Checkout
The new feature that the internet is buzzing about is the Instagram Checkout feature, which allows people to make a purchase without having to leave Instagram. That's right! No redirecting to the website and no description pages.
Once you click on a product you like, you can simlpy tap the "Checkout on Instagram" button and it will let you select from various options, such as size or color, and then continue to payment. You just have to fill in your shipping and payment information.
It is that simple. Adding to that, you only have to fill in your information the first time, from there on it becomes a seamless process as your information is saved for future purchases. You will also receive notifications about shipment and delivery inside Instagram! So you can keep track of your purchase.
---
@shop is Now Open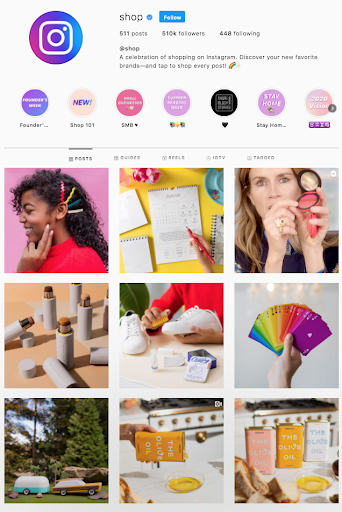 Image Source: Instagram @shop
A quite recent addition to Instagram is the new @shop account, basically, here you will find a variety of products from globally emerging brands. All of these products will have product tags so you can easily tap and make a purchase.
The account is managed by the Instagram team, it is not quite clear how to get featured on this account, Instagram says that the account is a "reflection of our community's interests across top shopping categories like fashion, beauty, home decor and more."
Basically, with this Instagram is looking to attract and motivate small businesses to use the platform and grow faster. The content on this @shop account is inspired by the Instagram community of shoppers.
---
Shop directly on Business Profiles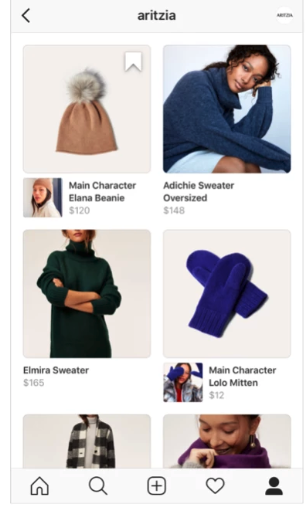 Image Source: Instagram Press
Now the Shop Tab on Business Profiles lets you view all the products from their respective shopping posts! So, you can quickly browse product when you are on a particular Business Profile, just Tap on the Shop button and you will see their products and details such as item name and price.
---
Shop Button on Explore
When you go to the explore page on Instagram, you will see a Shop Tab at the top. If you click on this tab you can get access to tagged product posts. These products are based on the brands a person is following or something that Instagram thinks the user will find interesting, similar to how explore works for normal posts.
This makes it very easy for people to shop while browsing through their Instagram.
Once you click on the Shop Tab not only will you see shoppable posts, on the top right there is also the option to view the "Brands you follow" and a saved "Wishlist".
---
Wishlist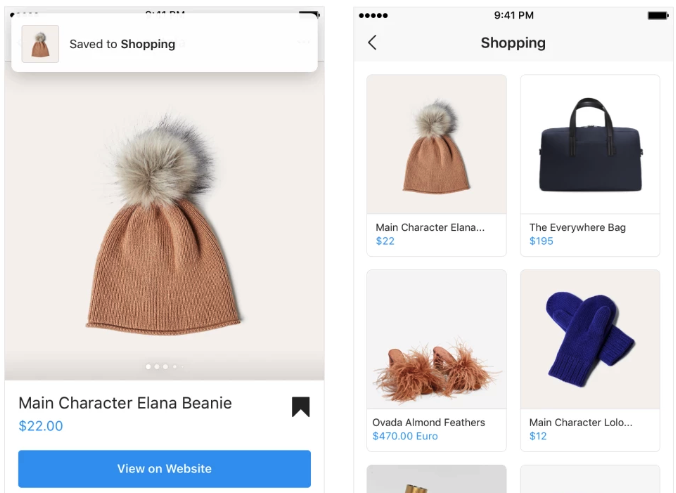 Image Source: Instagram Press
Build up a shopping list for later! You can store all your desired items (create a wishlist) to your Shopping Collection and visit them whenever you want. It is really simple after you have tapped on a product tag in Insta stories or feed, tap the Save icon that you see on the bottom right corner to add and save it to your Shopping Collection. You can easily access your Shopping Collection from your profile.
---
Shop Directly from Feed Videos
Image Source: Instagram Press
When browsing through video Feeds of your favourite businesses, you can now Tap a Shopping Icon on the bottom left corner and see the products featured in the video and get instant access to their details.
---
Shopping from Creators
This is the feature where influencers and celebrities like Ronaldo come into play. Basically, Shopping from Creators means that people on Instagram will be able to shop inspiring looks from the creators they love and idolize without leaving Instagram.
This allows creators such as Nike to partner up with public figures like Ronaldo to create a global brand appeal and make it easy for people to buy instantly the products they see their favourite celebrities wear.
For online shoppers, it also makes the products more relatable and attainable as they see someone using it and they are just a few clicks away from owning it!
Learn more about Shopping for Creators
---
Ads
Instagram ads can be a great way to boost sales and increase conversions. Now you even have the option to create Shoppable Story Ads, meaning the Product Tagged feature is combined with the Instagram Ads.
Image Source: Instagram Press
In total you have the following options for advertising on Instagram:
Stories ads

Photo ads

Video ads

Carousel ads

Collection ads
To learn more about ads visit: Instagram Advertising
---
Aesthetics
Once you have your account set up, you can use your creativity to make beautiful shopping posts that can seamlessly fit in with your Instagram feed and also with the overall brand.
You will be able to create Instagram shopping posts in your profile feed or your Instagram Stories and customize them by choosing an image or video you like as the shopping post. You can even change the colour of your sticker before sharing your story so pay attention to details!
Instagram shopping uses the same catalog for e-commerce as on the Facebook Shop. You can learn how to set it up with our guide How to tag products on Instagram.