It is widely understood that methods of payment evolve in line with consumer purchase behaviour, and that the digital age has brought about a rapid change in recent years. However a significant factor that could not be predicted, such as a global pandemic, has affected change within the market more abruptly than usual.
Consumer spending has been steadily increasing in the UK, reaching a rate of around 337,000 million GBP in 2019. Online shopping in particular is thriving, accounting for around 82% of all purchases as of 2020, which is also in part due to COVID-19 restrictions.
This kind of development is inevitably resulting in a change in the payment method consumers are opting to use. The UK Finance Payments Market Report maps out the total spend per payment method from 2008, with predictions up to 2028: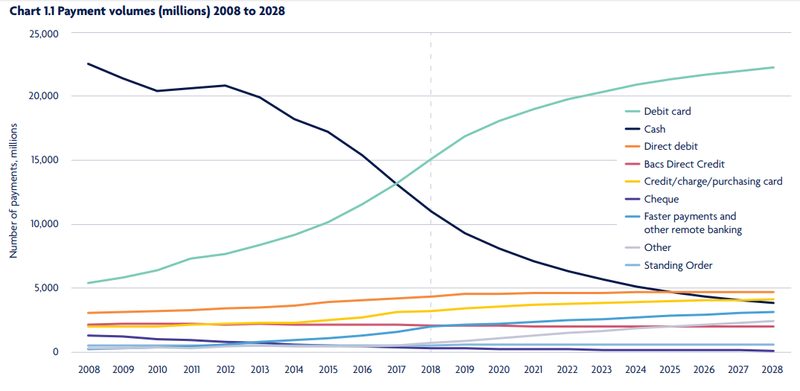 Source: UK Finance - Payment Markets Report Summary 2019
The largest change is clearly between cash and debit card, and we can see that the use of cash, cheque, and standing order is decreasing, while debit/credit card, direct debit methods, faster payment, and remote banking are on the increase.
Here is a closer look at some of the more prominent methods for payment in the UK, delving deeper to determine the defining factors that are affecting these changes.
Cash
For decades, cash was the primary method for payment in the UK, however this has seen a steady decline over the last 10 years. While around 23,000 million payments were made using cash in 2008, this has dropped to around 9,000 million payments being made with cash in 2019.
In other words, cash went from being used for 60% of all purchases to a mere 23% in 11 years. Subsequently, the UK is now the third "most cashless" country in the world, after Canada and Sweden.
Although cash has gradually been becoming a less favourable option over the years, the recent effects of COVID-19 are expected to cause the numbers to drop even quicker, as many shops, restaurants and public transport services are now being advised to and are refusing to accept cash payments at all, due to the risk of spreading germs.
Debit and Credit Cards
In 2017, the rate at which debit cards were used to make payments overtook cash, and has continued to increase ever since. Visa, Mastercard and American Express remain the most commonly used debit and credit cards in the UK.
The increase in using debit/credit cards in recent years has been facilitated by the circulation of contactless cards being issued by banks paired with the influx of contactless payment options.
From London buses going cashless and only taking contactless payments in 2014, to the majority of stores implementing speedy checkouts with contactless-reading devices, the transition was fast.
Due to ease and convenience, contactless quickly become a preferred option over chip and pin and by 2018, 84% of debit cards and 64% of credit cards had a contactless functionality.
The majority of high street chains began to give the option of contactless payments, often through portable card readers such as iZettle, Sum Up and Square, all of which equally accept payment from the major digital wallets. Finally as of 2020, it is now a Visa and Mastercard requirement that all card machines accept contactless.
Digital wallets
In 2019, around 82% of the country were making online purchases, with 25% of all UK payments being carried out through a digital wallet.
According to JP Morgan, 51% of this online consumer purchase behaviour comes from the mobile commerce market. With the m-commerce growth rate predicted to continue climbing quickly, greater payment options have arisen to keep up with technology.
In order to meet the needs and expectations of the modern market, integrated payment platforms and in-app payment methods via digital wallets are being adopted by apps and social media channels for example, providing an effortless and more efficient experience.
The most used digital payment platforms in the UK are Paypal (making up 20% of all digital wallet payments), followed by the likes of Amazon Pay, Google Pay and Apple Pay. As they offer a great deal of security, with two-step and biometric authentication, these platforms are well trusted by consumers, and are therefore very popular.
In addition to the aforementioned options, the other main payment gateways platforms used by online retailers in the UK include WorldPay, Sage Pay, Shopify and Stripe.
The Digital Payment Landscape, Post-Pandemic
While movements towards digital have previously been gradual, COVID-19 has caused a huge spike in contactless methods of payment being made. As mentioned before, many institutions are no longer accepting cash payments. With the UK is headed towards a cashless society, the plethora of digital payment options is growing and a drastic transformation is occurring.
To begin with, the preference for using contactless payments has risen by 11% during the pandemic, while the use of cash payments has dropped by 42%. This behavioural change has been encouraged by UK Finance and the British Retail Consortium, who increased the maximum contactless spend limit from £30 to £45 on 1st April 2020.
Surveys show that more consumers are now happier to use contactless payments, and those who hadn't before are now also trying online shopping. Furthermore, there has also been an increase in shoppers using digital wallets to make their purchases.
With NFC/RFID technologies being integrated into more products, customers are now using their smartphones, smartwatches and contactless wristbands more frequently to make payments in stores, most of which are accepted by Apple Pay, Google Pay and Samsung Pay.
Payment by QR codes do provide another solution and are already being offered by a number of banks, Paypal and Google Pay, however with the majority of the UK's population already accustomed to the ease and convenience of contactless cards, there is little more QR code payments can offer currently, in regards to e-commerce. Conversely, it is commonplace for QR codes to be used for personal banking and bill payments.
While the majority of the UK does not currently deal with cryptocurrency payments, the post-pandemic shift to digital could cause more consumers to begin to venture into this market.
Developments in recent years, such as cryptocurrency platform Coinbase partnering with Visa in 2019, and Wirex becoming the first native cryptocurrency platform to partner with Mastercard in July 2020, will likely encourage this change, as once again, it gives consumers more choice with how to pay. In addition, digital wallets Paypal and Venmo will begin to work with cryptocurrencies in the near future.
Conclusion
Ultimately, due to COVID-19 restrictions, cash payments will soon be obsolete, while contactless payments and the online retail market within the UK has seen a boom. This is highly likely to continue to be the case even after the pandemic has completely passed and normality is resumed in high street stores, due to online options becoming so much more convenient.
A key takeaway for the e-commerce market that is growing in competition, is for online retailers to provide the best customer experience, with a user-friendly and uncomplex checkout process. By offering a choice of payment options considering the local preferences of the target audience, customers will only be encouraged as they have the ability to choose their favorite method.