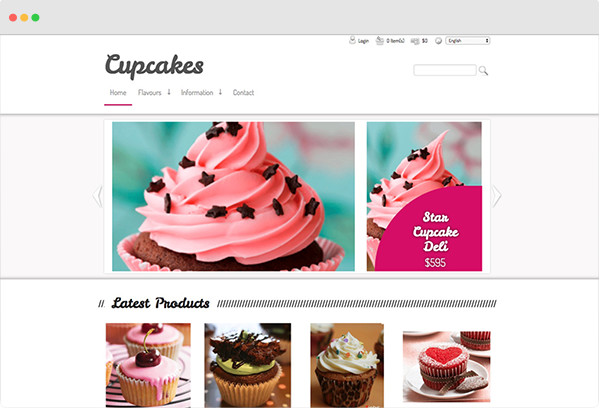 Cupcakes
Cupcakes is an entertaining and pleasing template. It also evokes a sense of fun and joy to the store's customers.
With light colors and with a feminine touch, it's perfect for shops selling appealing products such as clothing, lingerie and food.
It has been designed to be seen on multiple devices such as Desktop computers, Tablets and Mobile phones.
Check Theme
Two-Part Featured Slideshow
Improve the way you promote and display your most important products.
Featured product's images are displayed on the Slideshow in two ways: on the left a wide version of the image and on the right a more focused and zoomed image of the product.
Check Theme
Theme Color Pickers
You can choose the proper colors for your store, like the background, text and link colors.
Cupcakes has a well designed color palette, which individual colors can be selected accordingly with your business branding.
At your Admin Panel > Settings > Theme options, you'll find where to change the color of the store's background, general texts and titles and even Cart and Review Order grids.
Theme Gallery Images
Tip to best place your gallery's product images.
Images are automatically cropped, to fit the ideal squared dimensions needed on this Theme.
Try to choose images with a balanced width and height, so that most attractive part of the product are kept well centered after the crop
Note: The framed portion of the image is the displayed image at your store.