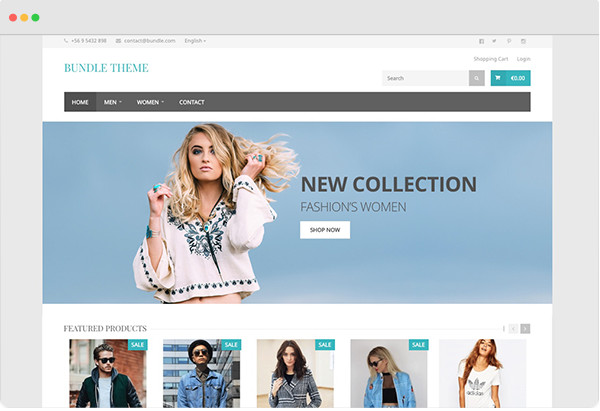 Bundle
Bundle is a truly versatile theme, its visual design is sleek and modern. It is fully customizable which will give your customers the ability to shop from any device anywhere.
You can adjust the colors match your company's brand image and add images along with a personalized text at the home page's banner.
Check Theme
Multiple Product Images
Bundle is here to help you increase your sales, your image carousel allows you to highlight the main features of your products showing a second picture when hovering above the main image.
Additionally you can customize the title, subtitle, font color and even the button text and url to your own liking in the new slider in your Home Page
Check Theme
2 Different Layouts
One of the best features that Bundle has is the option to choose between 2 different layouts.
You can opt for a boxed one that comes by default with Bundle or for a Wide layout for your store. Check them out to see which one best fits your content.
Bundle is Ultra Responsive and ready to fit and look good on all your devices with any of the layouts you choose.
Mailchimp Newsletter
You can now integrate your Mailchimp newsletters with your Jumpseller store.
Your clients can sign up to receive email updates on new product announcements, gift ideas, special promotions, sales and more.
To integrate it just paste your Mailchimp Form Action URL in the Theme Options > Others Panel.

It should be in this example format:
//vendder.us1.list-manage.com/subscribe/post?u=86096068eccfd9fff0a26f5c2&id=f6879a346f