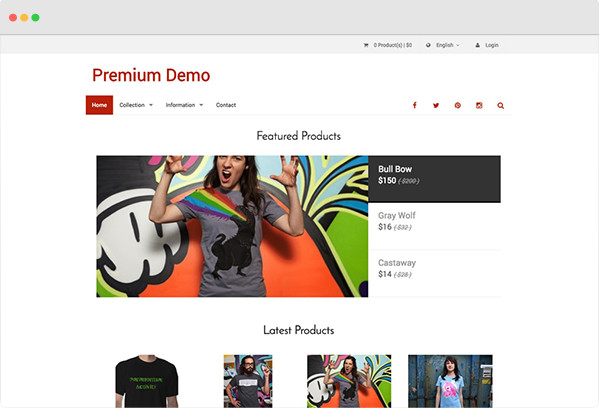 Premium
Premium is an all-around theme with a minimal design footprint.
It provides all the necessary elements including:
A Home Page's slideshow featuring selected products and your store's description
A simple navigation menu with dropdown menus for your Categories and Pages
Minimalistic footer with the main navigation links
Check it Live!
Responsive Design
Premium is visible and functional in every device you may want to use, like Tablets or Iphones.
The theme elements will adapt and sometimes reorder, depending on the device in use.
As an example, on a desktop computer you see four products for each horizontal row, while on a tablet you see just two.
Check Theme
Theme Color Pickers
Easily change the color of the theme elements to better fit your design guidelines.
Here you can change each elements color allowing you, for example, to better relate your store's colors
You can change them at your Admin Panel > Themes > Theme Options.
Quick Demo
Left: Premium Theme with its original color palette.
Middle: At Admin Panel > Themes > Theme Options you can edit your color picker.
Right: Premium Theme with a variation from the original's color palette.