How to install Google Commerce
On this page
Creating an E-commerce store on Jumpseller is the first step to making your products available on the internet.
The next step is to add ways of bringing your products or services to more Market Channels such as: marketplaces, social media, web stores, etc.
In this article, we talk about how to send the products on your Jumpseller Store to Google Commerce, a popular Sales Channel.
---
Introduction to Google Commerce
Google Commerce is a Google service that allows users to search for products on online shopping websites and compare prices between different vendors.
Customers can either go to the Google Search homepage to enter a search query and then select the Shopping tab under the navigation bar, or go directly to the Google Commerce homepage where products can be searched and compared with between different vendors.
The search results show sponsored (Paid Ads) products at the top.

Below the Ads, other relevant products also show up on the search result even if they are free listings. Which is why it is important to make your products discoverable!
Tip: Now you can create free product listings on the Google Commerce tab.
Google Merchant Center & Google Ads Accounts
While easily linkable, Google Merchant Center and Google Ads have different accounts, once you set up you Merchant Center account with the Jumpseller Google Commerce App it does not automatically create a Google Ads account by itself.
Note: When you use the Google Commerce Sales Channel with Jumpseller, you can not use a pre-existing Merchant Center Account.
A user who intends to use Google Commerce will always get a new account created by Jumpseller once they configure the app. Let us further explain:
There are 2 types of accounts, Google Merchant Center Account and Google Ads Account.
Google Merchant Center is where you create your product feed to be used on Google Commerce.

When you configure the Google Commerce Sales Channel, a Google Merchant Center account is created by us. Our integration will send your products in the correct format to a Google Merchant Account.

It is not because as the App does not know how to deal with feeds from other sources, it is not useful at all to connect to an existing account and "inherit" your products from another source.

You can connect 1 Merchant Center account to multiple Ads accounts (a maximum of 5 accounts), or change which one is connected, etc. They can all be active, and all of them are "using" the same data feed.

Compared to Text Ads, Google Commerce Ads are a bit different. Keywords are more important for text ads, when you create campaigns and ads it is all focused around keywords that you have selected.

With Google Commerce, it is Google that determines when a product listing ads show up. Similar to SEO, Google here considers your site, feed and bids to determine what search queries should trigger your ads.
---
Setting Up Google Commerce as a Sales Channel
In order for Google Commerce to work properly, the first thing to keep in mind is that when you install it, a new account will be created in the Google Merchant Center and you will have to claim ownership of your website.
Note: You need to have a custom domain before you integrate with Google Commerce.
Install Google Commerce from the Sales Channels.

Start by signing into your Google Account.

To comply with Google Policies and for your store to get approved on Google Merchant Center, you will need to have a Terms and Conditions page and a Return and Refund Policy. You can do this by using our Terms and Condition Sample and the Return and Refund Sample pages.

Next you will need to create your Merchant Center Account by pressing the "Create Account" button.

You need to add the contact information about your Business, configure the tax settings if you intend to sell in the USA and set up your branding by adding your Logo and the corresponding colors.

Lastly, you need to Verify and Claim your website by clicking on the "Verify and Claim" button.
If everything is okay with your store, you should have your store verified between 24 - 48 hours. If your store does not meet a condition, you will receive an email from Google stating your store was not approved. In that case, you will need to diagnose your store as per the requirement stated in the email.
Note: if a store is not verified, your products will not be accepted in the Product Feed even if they match all the requirements.
Optimize Product Feed
In order to have the best chance of makeing a sale via Google Commerce, it is always advisable to optimize your product feed! Which means to make sure the product image, description, title etc all of these are on point!
With Jumpseller, this is really simple, you only have to make these changes on the admin editor and we update the products on Google Commerce in real time.
Basically, improve the Product listing (description, title etc) on the Store and it is optimised for the Product feed automatically.
Sending your Products to Google Merchant Center
The sales channel will list all your products from the store, in order to have them published and ready for advertise you need to get the status indicator to be green.

For sending, you may simply click on the "enable" toggle for the product you want to send. It will then be sent to Google Commerce for them to review. You can also "Enable All" products by clicking on the button at the top.

Once the products are reviewed by Google, you can click on "Verify All" and update the status colors of all your products. If you want to see details on a specific product, you can click on "Re-Check" button and details of the warnings and errors from google will be shown.

At any time you can access your Google Merchant Center account through the corresponding button at the top.
Select which products you want to submit to the feed just by flipping the switch.
Enabling or disabling the product will automatically insert or remove the product from the feed.
Note: All the products load as disabled by default.
---
Products and Account Approval
After you submit your products to the Merchant Center, Google will start a review process that includes:
If you click the verify button next to your product it will query Google Merchant Center about your product status. A product can have these status:
Green and Enabled: The product configuration is correct and the product shows in your Google Commerce feed.

Red and Enabled: The product configuration is not correct but the product shows in your Google Commerce feed.

Red and Disabled: The product does not shows in your Google Commerce feed.

Yellow: The product is still being evaluated by Google.
Request Review: If you want to request a review, you can do so by going to Products > Diagnostics > Account Issues.
---
Setting Up Smart Shopping Campaigns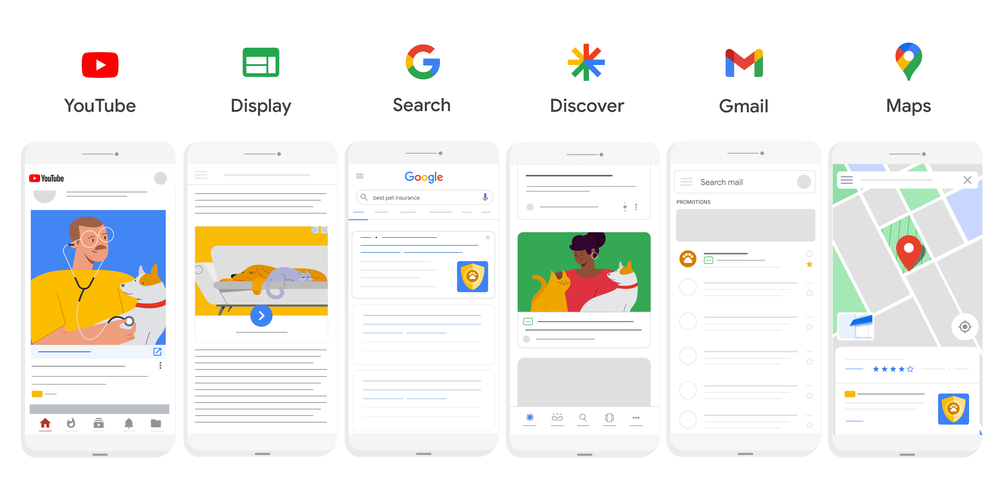 Now that your Products are ready and your website has been verified, you can create your first Smart Shopping Campaign.
Start by adding your Billing Information. For this, you first need to go to your Google Ads account navigate to Tools and Settings from the top menu and go to Billing > Summary.

Add your billing information here. Now go back to your Jumpseller Admin and click on Settings from the top-right menu button.

Next you need to click on the Fetch Billing button.

That's it! Your Billing information is set up! Now you can see the Create Campaign Button on the Top Right, click there.

Enter a Campaign name, select the country and set a daily budget!

Once your campaign has been created, you will be redirected to your products page.

All your products enabled on google merchant centre show up on your campaign

From here you can click on the View Campaign button on the top right and you will have an option to Enable and Disable your campaigns.

You can also click on the campaign and will be redirected to google ads, where you can see your campaign in more detail.
---
Most Common Google Merchant Center Errors and How to Fix Them
In order to help you with these best practices and to improve the quality of your products we elaborated a raking with the most commom Google Merchant Center Errors and how to fix them.
Missing Shipping Information:
Follow Google Instructions on how to setup the shipping costs.
Invalid or missing GTIN value:
A GTIN is a unique and internationally recognized identifier for a product.
To find yours refer to the barcode on your product's packaging.
If you can't find the GTIN, you can always contact your supplier or the product's manufacturer to ask for it.
Not all products require a GTIN, for example, Custom Made products such as custom Shirts or art don't need one.
However, if your product has one and you don't submit it the product performance on searches might be limited.
Read more information in Google's GTIN Guide
Missing Google Product Category
On the product settings of your, Jumpseller Store add the Google Product Category of your product.
Account suspended due to policy violation: return and refund policy
Please ensure that the return and refund policy is clearly available on your website, it should be easily discoverable and shouldn't be missing.
Create a policy on your Admin Panel: Pages and then add them to one of your navigation menus in your Admin Panel: Navigation.
Account suspended due to policy violation: Restricted purchase
Make sure that the products sent to your Google Commerce feed are allowed by Google and that restricted prodcuts such as alcoholic beverages, adult oriented, healcare, gambling and political content follows the shopping ads policies.
Other Recommendations
Make sure there's a business address that resolves properly on Google Maps and a business phone number that rings and is answered during normal business hours.
Ensure that the website displays identical information to all users, in all locations, regardless of any user-specific details such as IP address, browser, user-agent, etc., and meets the language requirements of the target country.
If you have any further questions you can always contact us.
If you have specific questions about Google Merchant Center or Ads please contact Google Support: ads-support@google.com