Support
Basic and advanced options to customize the checkout experience
Table of Contents
---
Checkout Steps and Options
On this guide you will learn all of the available settings to customize the checkout process in your Admin Panel: Settings > Checkout.
Tip: Although in many cases we would like to know more about our client, such as age, birthday, how found the store, etc. Increasing the amount of required information on the checkout form increases the pressure for abandonment. Consider asking only that vital information to process the order. After the purchase, you can conduct advertising campaigns requesting more information from the customer.
Add to Cart
Decide what happens when your customer adds a product to the store cart.

Options
Stays on the same page: Choose this option if you expect your customer to buy more than one product.
Go to cart: Choose this option if you expect your customer to modify the quantity of the product before finishing the order.
Go to checkout: Chose this option if you want to sell the product as soon as possible. For example if your commerce only sales one product or your customers usually only need one product.
Conditions you can set conditions for checkout. Conditions can be on the Order Amount or the Number of Items in the cart.
Checkout Form
Add extra fields to your form. They can be optional or required.
Contact Information
Phone: Some shipping companies might require this field.
Customer Accepts Marketing: Use it if you plan to use the customer e-mail for marketing purposes.
Shipping and Billing Addresses
Tax Id / Vat Number: NIF, RUT, VAT, Fiscal ID, Tax Identifier, etc.
Municipality
Postal Code: Can't be removed. It can be optional.
Other
Special Instructions / Additional Information: Creates a text field. Use it if you want your customers to provide additional instructions to the order.
Custom Fields
Create fields to customize the form. They can be added to any of the three sections: Contact Information, Shipping and Billing Addresses or Other.
Input: A line of text and/or numbers. Example: Door Number, Company Name.
Text: More than a line of text or numbers. *Example: Write Special Note for the recipient**.
Option Select: A list of options to select. Example: Type of billing document, type of wrapping.
Date: A date field. Example: birth date.
Checkbox: Or selection box. Example: I have read and accept the Terms and Conditions. It also accepts HTML to add a link to another page, Example: I have read and accept the <a href="/terms-and-conditions" target="_blank"> Terms and Conditions </a>.
You can also change the text style to Bold, Italics and add in-text links when creating your customised form.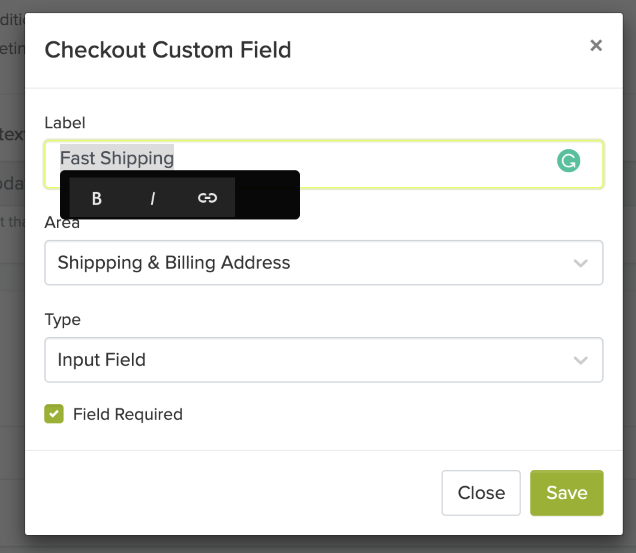 Other Options
Digital Products Options
For these options to show, your first have to make sure your store has Digital Products.
Maximum Downloads
Expiration Time
Order and Cart Abandonment Options

Limitations
These are limitations of the normal checkout process intended to offer stability to the store. It is possible customize the normal process and enable these features using advanced modifications with Javascript, HTML and CSS.
No store pickup functionality. Use free shipping as an alternative.
Some fields can't be removed such as City, Name, Surname, E-mail, Postal Code, Region, Country.
Can't change the name of system fields.
Can't have discounts on payment methods.
---
Advanced: Checkout Snippets Library
This Library contains scripts with experimental modifications on the Checkout. Use them responsibly, test the checkout process, if you don't know what you are doing contact a professional.